NSR250R
Release Date: November 10, 1993
Price: Y680,000
Number Sold in 1994 : 5,961 Units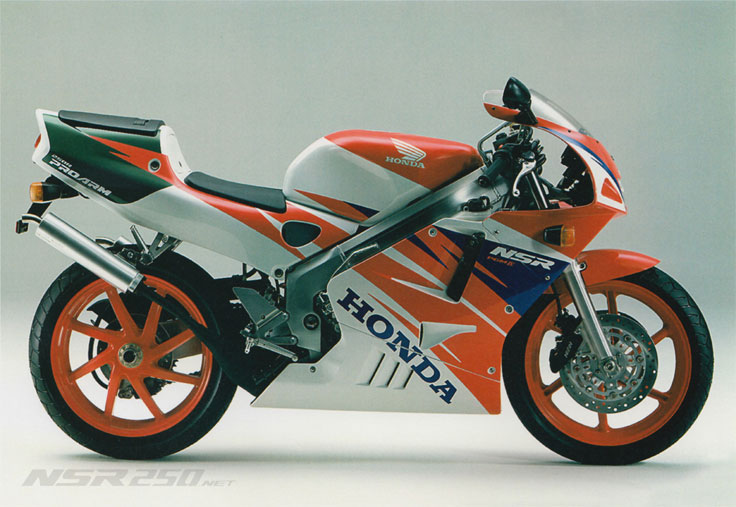 SPECIFICATION 1994 NSR250R
Model
MC28
Lenght
1.970m
Width
0.650m
Height
1.045m
Wheel Base
1.340m
Ground Clearance
0.130m
Seat Height
0.770m
Weight (Dry)
153 (134)kg
Seating Capacity
2 persons
Fuel Economy
22.2km/l (at 60km/h)
Engine Type
MC16E
two-cycle - liquid cooled
90 degree V-twin cylinder
reed valve/exhaust valve
Displacement
249cm3
Bore X Stroke
54.0x54.5mm
Compression Ratio
7.4
Maximum Output
40PS/9,000rpm
Maximum Torque
3.3kg-m/8,500rpm
Carburetor Type
TB10
Starting Method
Kick
Ignition
PGM-CDI
Lubrication
Seperate Pump (engine)
splash type (transmission)
Oil Capacity
1.2l
Fuel Capacity
16l
Clutch
Wet multi-plate, coil spring
Transmission
Constant mesh 6-speed
Caster/Trail
23°00'/85mm
Tire Size (F-R)
110/70-17 54 H
150/60-R17 66 H
Brakes (F-R)
Hydraulic Dual Disc (Floating Disc)
Hydraulic Disc (Floating Caliper)
Suspension (Front)
Telescopic Fork
Suspension (Rear)
Swing-arm (Pro-Link)
Frame
Aluminum, twin tube
NSR250R SE
Release Date: November 10, 1993
Price: Y720,000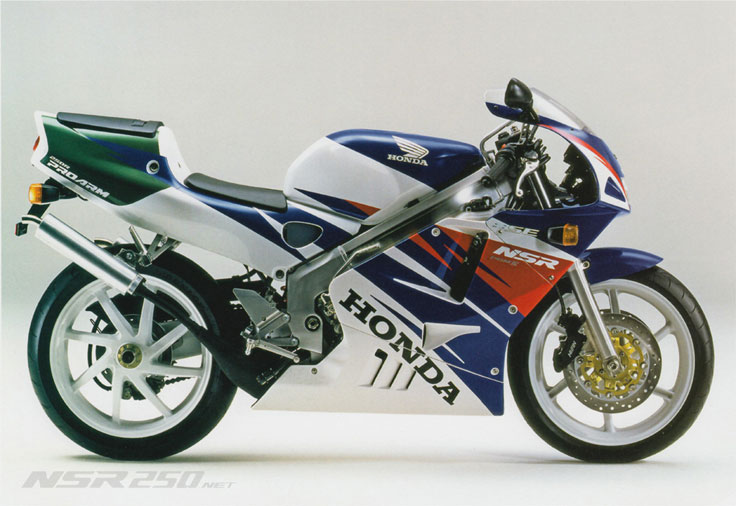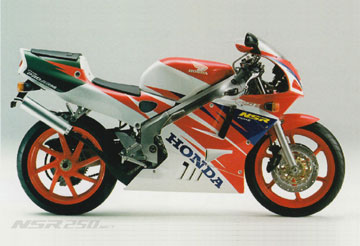 SPECIFICATION 1994 NSR250R SE
Model
MC28
Lenght
1.970m
Width
0.650m
Height
1.045m
Wheel Base
1.340m
Ground Clearance
0.130m
Seat Height
0.770m
Weight (Dry)
157 (138)kg
Seating Capacity
2 persons
Fuel Economy
22.2km/l (at 60km/h)
Engine Type
MC16E
two-cycle - liquid cooled
90 degree V-twin cylinder
reed valve/exhaust valve
Displacement
249cm3
Bore X Stroke
54.0x54.5mm
Compression Ratio
7.4
Maximum Output
40PS/9,000rpm
Maximum Torque
3.3kg-m/8,500rpm
Carburetor Type
TB10
Starting Method
Kick
Ignition
PGM-CDI
Lubrication
Seperate Pump (engine)
splash type (transmission)
Oil Capacity
1.2l
Fuel Capacity
16l
Clutch
Dry multi-plate, coil spring
Transmission
Constant mesh 6-speed
Caster/Trail
23°00'/85mm
Tire Size (F-R)
110/70-17 54 H
150/60-R17 66 H
Brakes (F-R)
Hydraulic Dual Disc (Floating Disc)
Hydraulic Disc (Floating Caliper)
Suspension (Front)
Telescopic Fork
Suspension (Rear)
Swing-arm (Pro-Link)
Frame
Aluminum, twin tube
NSR250R SP
Release Date: December 10, 1993
Price: Y800,000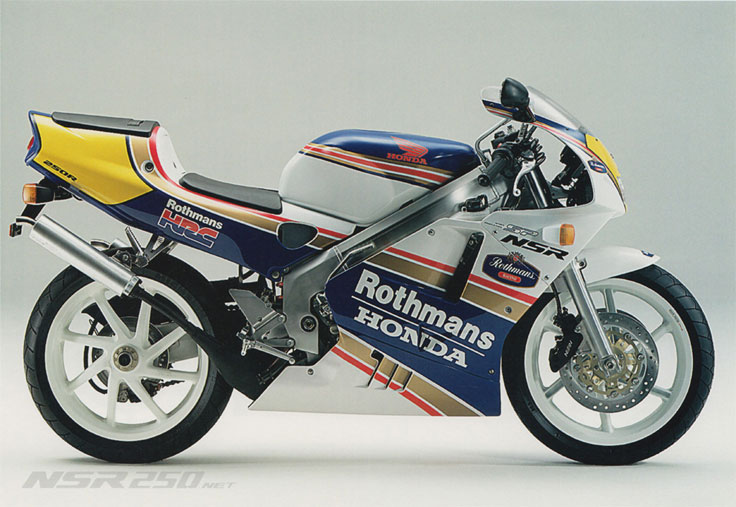 SPECIFICATION 1994 NSR250R SP
Model
MC28
Lenght
1.970m
Width
0.650m
Height
1.045m
Wheel Base
1.340m
Ground Clearance
0.130m
Seat Height
0.770m
Weight (Dry)
156 (137)kg
Seating Capacity
2 persons
Fuel Economy
22.2km/l (at 60km/h)
Engine Type
MC16E
two-cycle - liquid cooled
90 degree V-twin cylinder
reed valve/exhaust valve
Displacement
249cm3
Bore X Stroke
54.0x54.5mm
Compression Ratio
7.4
Maximum Output
40PS/9,000rpm
Maximum Torque
3.3kg-m/8,500rpm
Carburetor Type
TB10
Starting Method
Kick
Ignition
PGM-CDI
Lubrication
Seperate Pump (engine)
splash type (transmission)
Oil Capacity
1.2l
Fuel Capacity
16l
Clutch
Dry multi-plate, coil spring
Transmission
Constant mesh 6-speed
Caster/Trail
23°00'/85mm
Tire Size (F-R)
110/70-17 54 H
150/60-R17 66 H
Brakes (F-R)
Hydraulic Dual Disc (Floating Disc)
Hydraulic Disc (Floating Caliper)
Suspension (Front)
Telescopic Fork
Suspension (Rear)
Swing-arm (Pro-Link)
Frame
Aluminum, twin tube
NSR250R SP
Release Date: January 25, 1994
Price: Y8000,000
Number Sold in 1995 : 2,687 Units
A two-cycle super sport bike that demostrates light and high athletic performance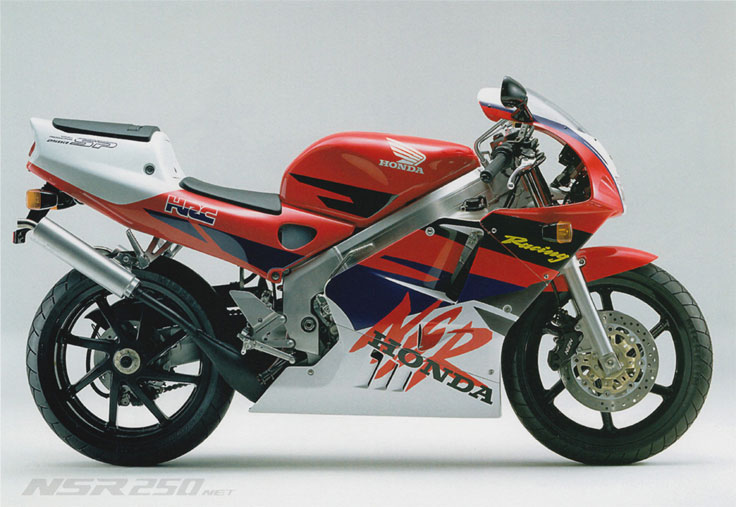 SPECIFICATION 1995 NSR250R SP
Model
MC28
Lenght
1.970m
Width
0.650m
Height
1.045m
Wheel Base
1.340m
Ground Clearance
0.130m
Seat Height
0.770m
Weight (Dry)
156 (137)kg
Seating Capacity
2 persons
Fuel Economy
22.2km/l (at 60km/h)
Engine Type
MC16E
two-cycle - liquid cooled
90 degree V-twin cylinder
reed valve/exhaust valve
Displacement
249cm3
Bore X Stroke
54.0x54.5mm
Compression Ratio
7.4
Maximum Output
40PS/9,000rpm
Maximum Torque
3.3kg-m/8,500rpm
Carburetor Type
TB10
Starting Method
Kick
Ignition
PGM-CDI
Lubrication
Seperate Pump (engine)
splash type (transmission)
Oil Capacity
1.2l
Fuel Capacity
16l
Clutch
Dry multi-plate, coil spring
Transmission
Constant mesh 6-speed
Caster/Trail
23°00'/85mm
Tire Size (F-R)
110/70-17 54 H
150/60-R17 66 H
Brakes (F-R)
Hydraulic Dual Disc (Floating Disc)
Hydraulic Disc (Floating Caliper)
Suspension (Front)
Telescopic Fork
Suspension (Rear)
Swing-arm (Pro-Link)
Frame
Aluminum, twin tube
Honda has renewed the coloring of the Honda NSR250R SP, a super sports bike equipped with a water-cooled, two-cycle, V-type 2-cylinder engine that demonstrates light and high athletic performance, and will release limited edition (1,500 units) from January 25, 1995.
Based on advanced state-of-the-art technology, the NSR250R SP uses the world's first PGM memory card system with the world's first composite electronic function as a mass-produced commercial vehicle in the main switch part to make engine control intelligent, as well as a dry multi-plate clutch, lightweight and high-quality magnesium front and rear wheels, and a front and rear suspension with damping force adjustment mechanism (A cartridge type) is adopted as standard equipment on the front, and it is the top grade of the NSR250R series.
This time, in the '94 FIM Road Race World Championship Series GP1 class, we adopted the sparkling red of the champion color that directly inherits the coloring of hrc works machine [NSR500] which won the manufacturer and rider champion, and it has a more dynamic image.
NSR250R SE
Release Date: February 10, 1996
Price: Y720,000
Number Sold in 1996 : 1,630 Units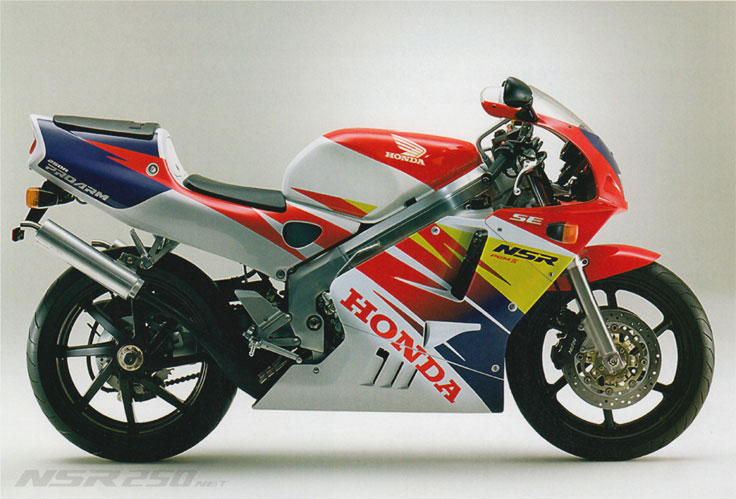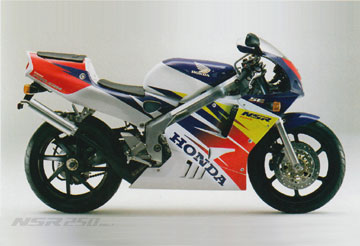 SPECIFICATION 1996 NSR250R SE
Model
MC28
Lenght
1.970m
Width
0.650m
Height
1.045m
Wheel Base
1.340m
Ground Clearance
0.130m
Seat Height
0.770m
Weight (Dry)
157 (138)kg
Seating Capacity
2 persons
Fuel Economy
22.2km/l (at 60km/h)
Engine Type
MC16E
two-cycle - liquid cooled
90 degree V-twin cylinder
reed valve/exhaust valve
Displacement
249cm3
Bore X Stroke
54.0x54.5mm
Compression Ratio
7.4
Maximum Output
40PS/9,000rpm
Maximum Torque
3.3kg-m/8,500rpm
Carburetor Type
TB10
Starting Method
Kick
Ignition
PGM-CDI
Lubrication
Seperate Pump (engine)
splash type (transmission)
Oil Capacity
1.2l
Fuel Capacity
16l
Clutch
Dry multi-plate, coil spring
Transmission
Constant mesh 6-speed
Caster/Trail
23°00'/85mm
Tire Size (F-R)
110/70-17 54 H
150/60-R17 66 H
Brakes (F-R)
Hydraulic Dual Disc (Floating Disc)
Hydraulic Disc (Floating Caliper)
Suspension (Front)
Telescopic Fork
Suspension (Rear)
Swing-arm (Pro-Link)
Frame
Aluminum, twin tube
NSR250R SP
Release Date: January 31, 1996
Price: Y800,000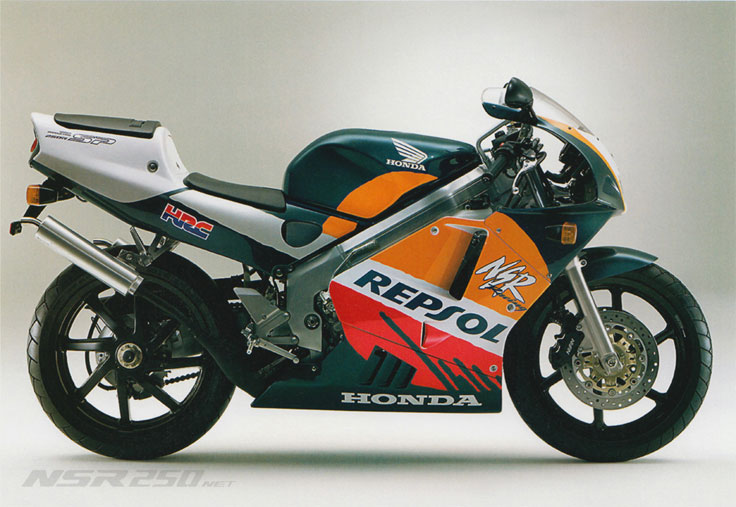 SPECIFICATION 1996 NSR250R SP
Model
MC28
Lenght
1.970m
Width
0.650m
Height
1.045m
Wheel Base
1.340m
Ground Clearance
0.130m
Seat Height
0.770m
Weight (Dry)
156 (137)kg
Seating Capacity
2 persons
Fuel Economy
22.2km/l (at 60km/h)
Engine Type
MC16E
two-cycle - liquid cooled
90 degree V-twin cylinder
reed valve/exhaust valve
Displacement
249cm3
Bore X Stroke
54.0x54.5mm
Compression Ratio
7.4
Maximum Output
40PS/9,000rpm
Maximum Torque
3.3kg-m/8,500rpm
Carburetor Type
TB10
Starting Method
Kick
Ignition
PGM-CDI
Lubrication
Seperate Pump (engine)
splash type (transmission)
Oil Capacity
1.2l
Fuel Capacity
16l
Clutch
Dry multi-plate, coil spring
Transmission
Constant mesh 6-speed
Caster/Trail
23°00'/85mm
Tire Size (F-R)
110/70-17 54 H
150/60-R17 66 H
Brakes (F-R)
Hydraulic Dual Disc (Floating Disc)
Hydraulic Disc (Floating Caliper)
Suspension (Front)
Telescopic Fork
Suspension (Rear)
Swing-arm (Pro-Link)
Frame
Aluminum, twin tube